Over 670,000 passengers pass through Mohan Port in six months after fully resuming customs clearance
来源:InKunming时间:2023-07-11 16:41:35

(InKunming Lexi)"Mohan Port is bustling again, just like it was four years ago," said Mr. Zhang in the waiting hall of Mohan Port, who was preparing to do business in Laos. On July 8th, after six months of comprehensive resumption of customs clearance, Mohan Port reported that a total of 670,000 passengers from 57 countries and regions around the world have entered or exited through the port, recovering over 70% of the number during the same period in 2019, according to the Mohan entry-exit border checkpoint.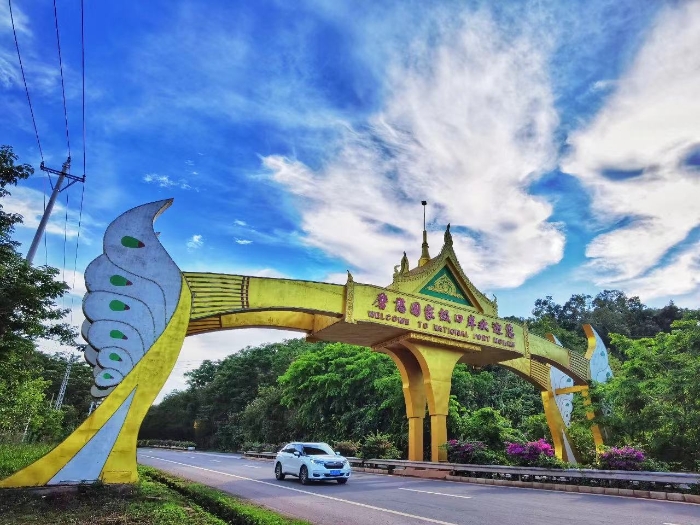 As the only national first-class port and the largest national-level port between China and Laos, Mohan Port has become the forefront of China's opening to South Asia, Southeast Asia, and the Indochinese Peninsula, following the opening of the China-Laos Railway and the deepening implementation of the Belt and Road Initiative. Especially on January 8th this year, the port fully resumed customs clearance and personnel exchanges. The convenience of entry and exit has continued to improve, leading to a sustained increase in the flow of people exiting and entering the port, and the number of third-country nationals traveling through Mohan Port has gradually increased.
As of July 7th this year, the Mohan border checkpoint had inspected 677,873 inbound and outbound passengers and cleared 153,130 inbound and outbound vehicles. Passengers from 57 countries and regions have entered or exited through Mohan Port, recovering to 72.53% of the level during the first half of 2019 before the pandemic, which represents a year-on-year growth of 281.82% compared to 2021 and 392.3% compared to 2022.
"To actively adapt to the needs of China's opening-up and the construction of Mohan International Port City, create a more secure, convenient, and efficient customs clearance environment, Mohan border checkpoint set up special channels for Chinese passengers and train crew members separately to ensure that the waiting time for Chinese citizens during immigration inspection does not exceed 30 minutes. For foreign passengers entering China, entry cards are issued in advance, and guidance posts are set up at the inspection site to provide them with full-process consultation services. We have also strengthened communication and cooperation with port joint-inspection units, related companies and units, maximizing information exchange and resource sharing. A duty operation mode is actively implemented, where two border inspection teams simultaneously handle inbound and outbound inspections to ensure smooth and fast clearance for passengers, vehicles, and goods," according to the relevant person in charge of the Mohan border checkpoint.
It is understood that to further improve clearance efficiency, Mohan Port has opened four fast channels since May 15th this year. The Mohan border checkpoint has increased the number of police on duty at the fast channels to provide on-site assistance, policy consultation, and problem-handling services for individuals using these channels. Since the opening of the fast channels, a total of 26,930 inbound and outbound passengers have been inspected, accounting for 14.84% of the total number of travelers, ensuring smooth clearance at the port.
"现在的磨憨口岸和4年前一样热闹了。"在磨憨口岸候检大厅,准备出境到老挝做生意的张先生感叹。7月8日,磨憨口岸全面恢复通关半年,记者从磨憨出入境边防检查站了解到,这期间有来自全球57个国家和地区共计67万人次旅客经磨憨口岸出入境,恢复至2019年同期的七成多。
磨憨口岸作为中老两国之间唯一的国家级一类口岸和最大的国家级口岸,随着中老铁路开通以及"一带一路"建设的深入推进,已成为我国面向南亚东南亚和中南半岛开放的最前沿。特别是今年1月8日,口岸全面恢复通关,人员往来全面恢复,出入境便利度不断提升,口岸出入境流量呈持续上升趋势,经磨憨口岸旅行的第三国人员数量逐渐增多。
今年截至7月7日,磨憨边检站共查验出入境旅客677873人次,验放出入境交通运输工具153130辆次,57个国家和地区旅客经磨憨口岸出入境,恢复到疫情前2019年上半年的72.53%,同比2021年和2022年分别增长281.82%和392.3%。
磨憨边检站相关负责人介绍:"为积极适应国家对外开放需要和磨憨国际口岸城市建设,打造更加安全、便捷、高效的通关环境,磨憨边检站为中国籍旅客和列车员工分别设置了专用通道,确保中国公民边检候检时间不超过30分钟。对入境的外国籍旅客,提前发放入境卡并在旅检现场设置引导岗,为他们提供全流程的咨询服务。我们还大力加强与口岸联检单位和相关企业、单位的沟通协作,最大限度实现信息互通、资源共享,并积极实行两个执勤队同时担负出入境边防检查的勤务运行模式,最大限度发挥用警效能,全面保障旅客、车辆、货物顺利、快捷通关。"
据了解,为进一步提升通关效率,自今年5月15日起,磨憨口岸开通了4条快捷通道,磨憨边检站增加了快捷通道执勤警力,为使用快捷通道人员提供现场帮助、政策咨询以及问题处理等服务。快捷通道开通以来,验放出入境人员26930人次,占出入境人员总数的14.84%,确保了口岸通关顺畅。(中文稿件来源:昆明日报 记者吴洁 通讯员王琨 黄远飞)